Miamitown Dimensional Letters
VIEW GALLERY
Do you want to have a sign for your business that would provide you with versatility and eye-catching looks? Dimensional letters can change the way you look for people who see them once it is displayed in your space.
Dimensional letters, also known as 3D or raised letters, are created in one solid material. It comprises molded, fabricated, cast, or cut elements to create depth and form a whole image. These attributes allow dimensional letters to be used for any application and installed with unique features such as lighting and differing depth.
Cincinnati Sign Company is known for delivering Miamitown dimensional letters, which are always personalized to match the brands requesting them. Our team can personalize these dimensional letters in every aspect, from their depth, material, and elements to their features. Thanks to our team that does the signs in-house, you can get the signs and have them installed in a short period. We guarantee that your investment in these signs will be worth it, as these signs will bring people to your business and give them a reason to do business with you.
Call Cincinnati Sign Company at (513) 822-4171 for your Free Consultation with a Miamitown Dimensional Letter expert!
Appealing Storefront Signage
If you want storefront signage to blend well with your building's facade, you will not go wrong with dimensional letters.
Dimensional letters come in different textures, dimensions, and depths, which allows users to customize them to their exact specifications. Businesses can also combine dimensional signs with other business signs to deliver more content to people.
You can get your personalized Miamitown dimensional letters with additional features such as lighting and animations so people can see them even at night. We have a great team of electricians who can install these electrical components so the entire sign works flawlessly.
Once the dimensional letters are installed in your storefront, they will bring traffic to your business.
Attractive Indoor Lettering
Dimensional letters can be used indoors in various applications. It can improve the space by adding color and being a focal point of the room. It can also provide directions and key information you want people to know as they look around your space.
Any business from any industry can use dimensional letters for their indoor display, and it can be personalized to include features like lighting and animations for additional impact.
Cincinnati Sign Company's sign experts can assemble dimensional letters to fit your brand and pick the best installation location. We can then customize them to display your intended content and add features to help them stand out.
If you want something unique for your indoor dimensional letters, let us know all about it, and our graphic designers will create the design to match your ideas.
Durable Dimensional Letters
Cincinnati Sign Company understands the importance of having reliable signs for your business. These signs will help you build the correct impressions of your business, but if made from a weak material, it will tell customers and partners that you are not dedicated to your brand's growth and overall image. It will also show that you are not a professional brand they should work with.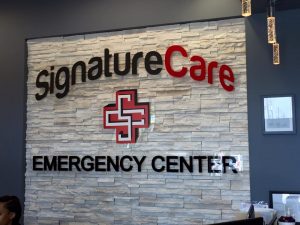 When we handle your request for personalized Miamitown dimensional letters, we will show you which materials are durable and help keep your designs vibrant wherever you install these signs. We often recommend vinyl, acrylic, polycarbonate, and coroplast for outdoor dimensional letters because they are proven durable even when constantly exposed to the elements.
For indoor dimensional letters, we recommend metal because it can also provide a smooth finish to its overall image. Light foam can also be used if you want your signs to be durable and lightweight.
We can also pair your designs with suitable, durable materials so they appear more vibrant than ever.
Full-Service Sign Company
When working with a sign company to get business signs for your business, they must be able to match your design requirements and see the vision you have for these signs.
While many Miamitown, OH sign companies promise they can deliver your request perfectly, not all can guarantee that they can provide what you need. With Cincinnati Sign Company, you can be confident about working with an experienced sign company that can deliver your signs on time, on point, and within budget.
Whether you request our personalized Miamitown dimensional letter service or our other sign services, our team will work with you to make your dream signs. Our graphic designers can help you create a design that will go on these signs or update your existing one to make it more effective. When the design is completed, our sign experts will provide sample materials that can go on your requested signs and recommend the best place to install them. Our manufacturers will work immediately once the material and design are selected.
Once the signs are complete, our installers will bring the sign and the necessary equipment needed to install your signs in their ideal location. For dimensional letters, our electricians will also be on standby to safely install your signs' electrical components to your business' electrical line so it won't cause problems in the long run.
You can also trust our team to help you with maintenance and repair work for these signs so they do not stop working as you intended. If you want to pair your dimensional letters with your other sign requests, let us know, and we will make sure they work cohesively.
Free Dimensional Letter Consultation

Give your brand a unique way to present itself with the help of carefully crafted dimensional letters explicitly tailored to your brand. With Cincinnati Sign Company, you can be very creative with how you want your dimensional letters to look, and we will make sure you get the sign exactly how you imagined it. We will make them with the best quality materials and deliver supporting services so you can enjoy these signs for a long time.
Don't hesitate to ring us up through our hotline; we will gladly show you our entire sign-making process.
Call Cincinnati Sign Company at (513) 822-4171 for your Free Consultation with a Miamitown Dimensional Letter expert!